Cryptocurrency Investors are the Latest Ponzi Scheme Target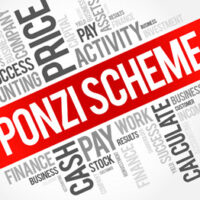 When it comes to Ponzi schemes, it seems like there are always new ways to try to defraud people. Recently, the popular scheme was about cryptocurrency, an already somewhat risky investment, even when no Ponzi scheme is involved.
What is Cryptocurrency? 
Cryptocurrency is currency that exists solely online and that is "mined" by computers. A benefit of cryptocurrency is anonymity. Of course, that anonymity also can lead to trading in illegal markets.
Cryptocurrency is also largely unregulated by the government and not backed by any government insurance or guarantee. That makes it very volatile. Stories of Bitcoin going through the roof in value have led to scams involving cryptocurrency fueled by those seeking to take advantage of people looking to get rich quickly.
Scam Looks to Defraud Investors 
The recent scam involves a group of men who sold their company as a way for people to get rich off mining cryptocurrency. Investors were told that if they invested, their money would be used by the company to purchase the equipment to mine the currency (computing equipment to mine cryptocurrency can be expensive, and require a lot of computing power).
By using everyone's money, the company touted, it could buy equipment in bulk, and pass those savings
-along with the profits from mining the cryptocurrency itself-along to investors.
Investors were told they could be an investor in one of three investment tiers-but there was, in fact, no tiered system, or separate bitcoin mining pools.
According to one report, the scam purposely looked for "dumb" investors and thought of the investors as "sheep."
Government Cracks Down 
But a later investigation revealed that many of the statistics the company used to induce investors were falsified. In fact, there was no mining pool that existed at all. Emails later obtained by investigators revealed that the company thought of ways that it could manufacture fake statistics to show investors, and that at one point, the company started to question whether it was a good idea to tell investors they were mining cryptocurrency, when in fact they were not.
In another telltale sign of a scam or Ponzi scheme, the company also offered incentives for investors who recruited additional investors.
The organization also did not file for paperwork or register as a security or register its shares, as required by the U.S. Securities and Exchange Commission.
Men Pled Guilty
Two people involved in the company and in the scam have pled guilty to the charges. One of them include a Romanian citizen who has pled guilty to selling the fake cryptocurrency to the company, and to being a programmer for the company. The company used the data and the programmer to falsity its data to investors.
Other defendants in the criminal case have not yet been convicted.
Reach Out to Us Today if You Need Legal Help 
Call the Florida Ponzi scheme lawyers at Lehman Tax Law at 561-368-1113 for help today if you have legal questions related to Ponzi fraud schemes.
Resources:
news.bitcoin.com/romanian-programmer-admits-conspiring-to-create-722m-bitclub-ponzi-scheme/
news.bitcoin.com/us-man-pleads-guilty-in-722-million-bitclub-network-ponzi-scheme-case/